Gawler Towing has years of experience with local knowledge of mechanical service providers that we can recommend. We are committed to provide the best service possible, and it is very important to us to be the one stop shop for HELP.
We will not settle for anything less than meeting all of our customers needs, to the best of our ability, 24 hours 7 days anywhere, anytime. So in your time of need one call to Gawler Towing does it all. Our aim is to keep you moving.
Gawler Towing is owned and operated by Keith Ebbs, who has been in the crash repair and towing industry for over 30 years. After selling the crash repair business in 2004 that he had owned and operated for 20 years Keith purchased a tow truck for his own private use. It didn't take long before people started asking him to tow cars and move machinery.
In 2005 he commenced business as Gawler Towing and it has grown from there. Gawler Towing is always nearby with a trusted tow truck service. Simply give us a call in Gawler any time, day or night, and Gawler Towing will be along shortly to help you out.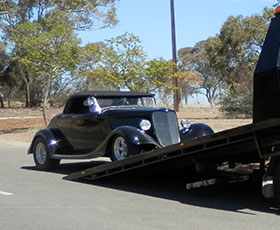 Reliable
The Gawler Towing promise is that you will receive help when you need it most. When your car is at its least reliable, Gawler Towing will take up the slack and provide vehicle towing to any destination you desire. Contact Gawler Towing today for a free quote any time and you will have vehicle roadside assistance before you know it.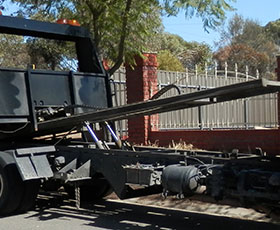 Professional
Professionalism is the key to Gawler Towing's success. Gawler Towing's owner operator is highly trained and experienced. Whatever situation you find yourself in, a tow truck can extract your vehicle safely in a way that keeps it damage-free. From Adelaide's Northern suburbs to the Barossa Valley, call us in Gawler today for all your vehicle towing needs!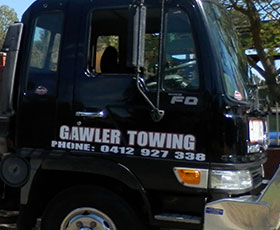 Efficient
No one likes sitting around waiting, and this goes double when your car has broken down. Gawler Towing's vehicle towing experts respond quickly, wherever you are in Gawler or beyond. Gawler Towing make sure the tow truck process is undertaken quickly and efficiently. This means less waiting for you, less hassle, and more convenience.
Our Services
Services Areas
We offer professional service at competitive rates covering all metropolitan and SA country areas including but not limited to:
Barossa Valley
Nuriootpa
Tanunda
Lyndoch
Gawler
Kapunda
Eudunda